DriveSavers Reseller Spotlight:
Do Less, Give More - A Perfect Record
November 2006:
Phillip Briski with Zion Technologies is a DriveSavers reseller with a perfect record. Each customer he has referred to us has walked away with a completely successful recovery.
What's the secret to this winning streak? It's Briski's approach. He takes the "less is more" route, avoiding difficulties by being cautious and using non-invasive tactics in dealing with complicated failures. He says our engineers are great at letting him know what to try and what not to try in order to maximize the chance of getting the data safely recovered.
ADEC Awareness Video:
Here is a brief 5-minute overview of the wonderful organization of ADEC, it's clients and some of the things they do to help provide a better quality of life for its clients.
Zion Technologies, Inc. was involved with giving the individuals at ADEC a better quality of life through technology.
2014 Midwest RepRap Festival:
3D Print Festival Draws Crowd to Fairgrounds
March 15, 2014:
A 3-D printing festival brought visitors from across the country to the Elkhart County 4-H Fairgrounds this weekend.
The 2014 Midwest RepRap Festival, with RepRap referring to 3-D printers that are made using free plans and software available online, was Saturday, March 15.
More than 100 3-D printers ranging in size, shape, and capability were on display in the main exhibit hall, many of them busy printing objects. Some booths featured established companies in the business that brought along their own printers, while others showcased hobbyists and the printers they've built in their spare time.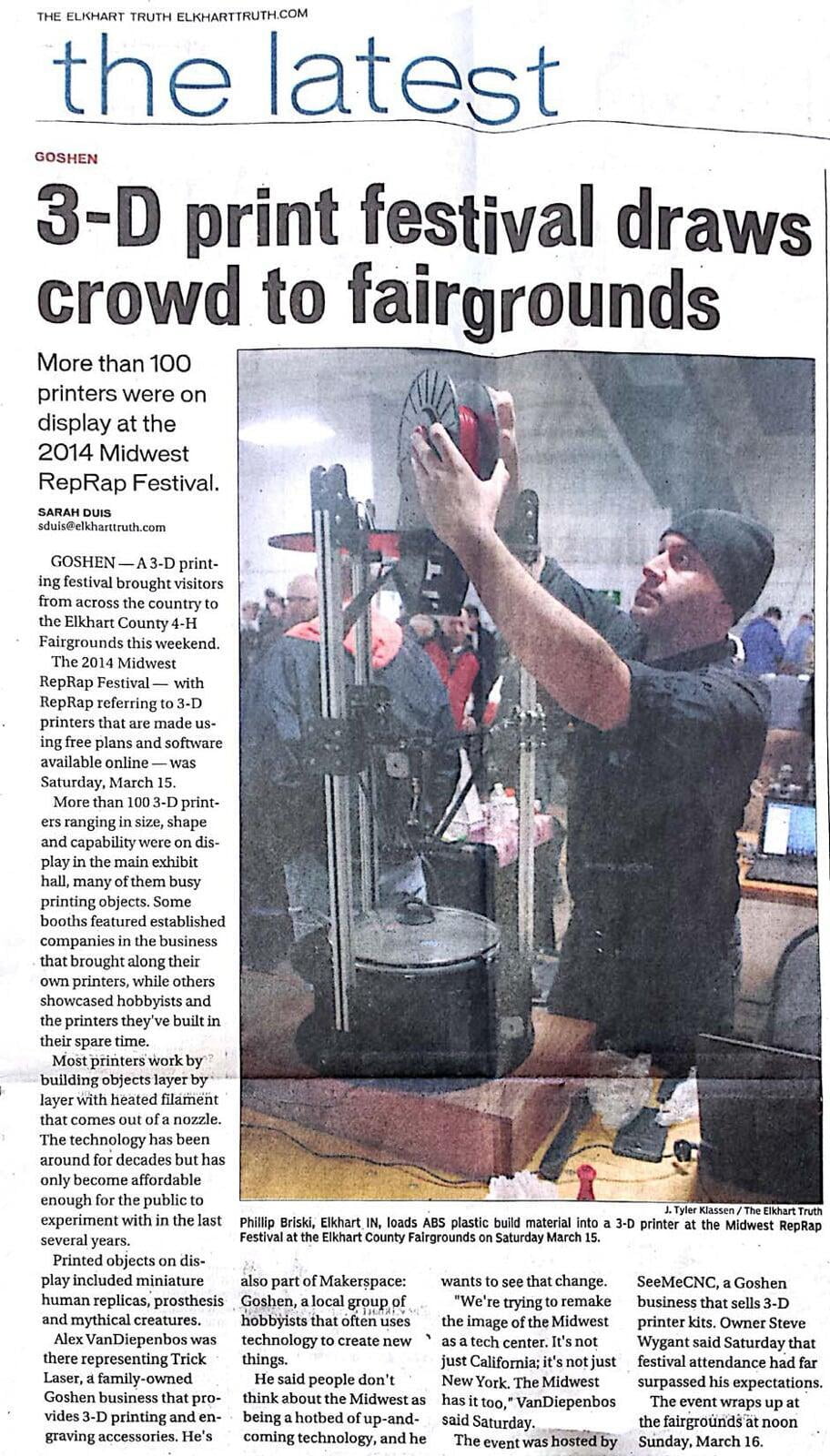 Startup Weekend Maker Michiana:
Budding Entrepreneurs Bring Ideas to Life During Startup Weekend Competition
November 17, 2014:
Startup Weekend is a 54-hour event that brings together designers, developers, entrepreneurs and experts from the Michiana area for three days of business model creation, coding, designing and market validation, explained Eric Kanagy, CEO and founder of RedPost Inc. in Goshen and a sponsor of the event.
The weekend event began Friday when participants were invited to offer pitches for ideas. Attendees then voted for the top pitches and formed teams around the six highest-rated ideas.
On Sunday night, judges selected three-member team BOLLT as the winners of the local startup weekend. Teammates Phil Briski, of Elkhart, John Olafson, of Goshen, and Scott Palmer, of South Bend, will now compete in the regional competition.
Ignite Michiana #3 Event:
Hundreds Attend "Ignite Michiana" Event
November 21, 2014:
South Bend, Ind. - Friday night's "Ignite Michiana" event at "The Brick" attracted hundreds of people who came to "fall in love with South Bend."
The sold-out even at The Brick, on Northside Boulevard, featured a diverse group of 18 speakers for 5-minute talks on innovation, entrepreneurship and creative problem solving.
The speeches also highlighted new things happening in the community residents can be proud of.
"Ignite Michiana" is a series of 5-minute talks about things that are happening in the area, so people are here, so they want to know what's happening in South Bend and they want to get plugging into things that they can be a part of," said Willow Wetherall, the Ignite Michiana Organizer. "Things they can be proud of, and it's all about changing how people feel and thing about our city and the surrounding area."
300 people attended the sold-out event.
Phillip Briski gave a 5-minute speech on The Maker Hive, "The Maker Hive Dream Space".
Here is the speech in its entirety:
Startup Weekend Maker Michiana:
Phillip Briski was on the winning team of BOLLT
Maker movement gains traction with Maker Spaces, events
By Kevin Allen, South Bend Tribune
April 12, 2015:
There was a time when just about everyone was a maker. People grew their own food, sewed their own clothes and built their own houses. Being a maker wasn't a big deal. It was normal.
Then, as technology advanced, it because more convenient - and, in many cases, less expensive - for people to buy something rather than make it themselves.
But a movement is spreading to close that disconnect. It's called the Maker movement.